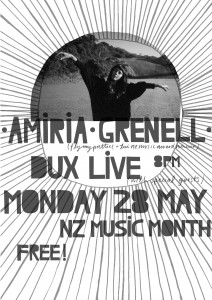 Amiria has been non stop since releasing her latest album 'Three Feathers' in September last year.  She has toured  New Zealand and Melbourne with 'FLY MY PRETTIES', Won Best Folk Album in the New Zealand Music Awards 2012, Performed to packed out crowds at the Christchurch Arts Festival, International Jazz Festival, Kaikoura Roots Festival, Luminate & WOMAD 2012, and recently made TOP 10 album, in the Official NZ Music Chart.  Her styles range from Folk to Reggae, Blues to Country.
"This album is a delicate delight, best savoured on a sunny sunday afternoon"  Vicki Anderson, THE PRESS
QUOTES
www.stuff.co.nz/dominion-post
NZ-pop singer Amiria Grenell is poised to be the next big thing. Jan 2012
RIANZ Managing Director, Chris Caddick, offered his "sincere congratulations" to Amiria, Three Feathers is a truly superb album. We hope this fully deserved Tui will encourage more people to discover this gem of New Zealand music." January 2012
North and South Magazine April 2012
If you feel cheated by a lacklustre performance from the NZ summer this year, slip Amiria Genell's new album Three Feathers into your disc player – a collection of sunny tunes encompassing country, rock, pop and reggae influences. In January, the Canterbury folk singer-songwriter, who has recently moved from Lyttelton to Wellington, was overjoyed to win the Best Folk Album Tui for Three Feathers, her second album.
Steve Langley "I love your songs – I've had your CD on repeat since I woke up. I've been to a few gigs lately, including the NZSO but nothing has moved me and got to the hairs on my neck like you and your band – so thank you." Steve Langley 
Kia Ora Magazine "Her voice is crisp and strong and family love and talent is all over this addictive album"
–
www.facebook.com/amiriagrenellmusic
http://www.youtube.com/watch?v=8JXXam-VpvE